TAG Adrenaline
INTERACTIVE
ARENAS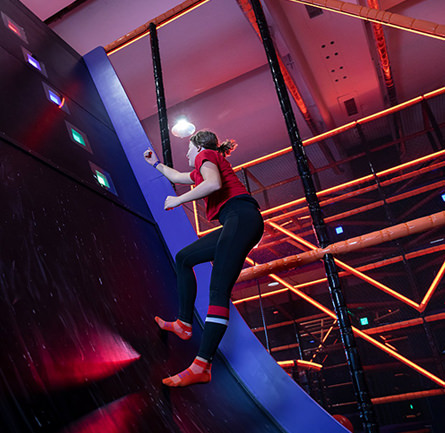 ninja tag
A CREATIVE BLEND
OF PHYSICAL OBSTACLES AND CHALLENGES

iPlayCO is proud to introduce TAG Active as the newest products in our Adrenaline Park Equipment line.
TAG Active promotes fitness, fun, and competition. TAG is a new concept in social active leisure through the technological gamification of physical events. A creative blend of physical obstacles and challenging events with immersive activities that make up the multilevel, multi-zoned TAG Arenas. Player worn electronic bands provide gamification and competitive metrics.
Tag arena games are designed to test strategy, speed, agility, awareness, bravery, as well as fitness, fun and competition. The arena itself contains a complex structure of interconnected activity areas. Each challenge requires a mixture of physical and mental agility. The arena is split into separated zones, permitting enhanced player distribution and capacity management.
Hidden throughout the arena activities are a large number of illuminated TAG's. The TAG's are controlled via a central computer and glow in different colours corresponding to a pre-determined points system. Points are collected by players using a sensor worn as a wristband. When a wristband is located onto a TAG's light source, a point's value is allocated to the specific player's wristband. As the player identifies and reaches more TAG's the players score escalates.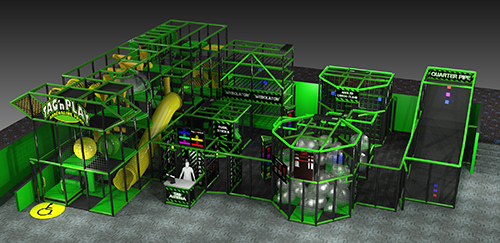 NEW TAG n Play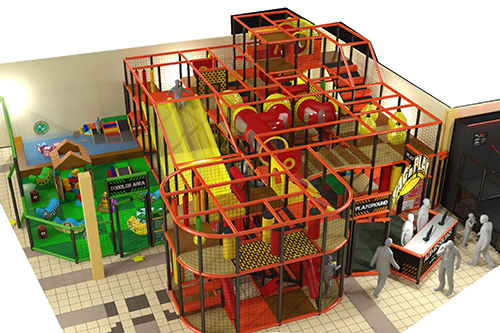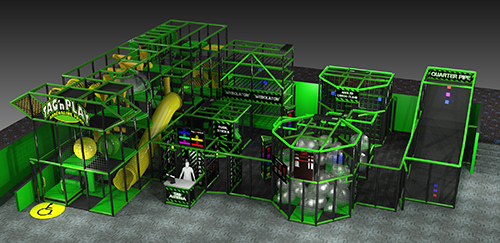 ---
NOW INSTALLED
Adrenaline Park at
El Eden Shopping Center
Bogota Colombia

TAG - Angled Cargo Climb, Balance Poles, Ballhop,
Cargo Maze Climb, Climb Forest Combo, Giant Ball Room,
Sea of Ropes, TAG check counter, TAG Score TV, and more.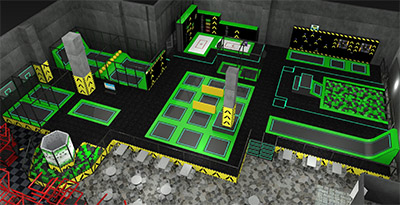 Trampolines with large obstacle jump, Dodgeball,
Slam Dunk, Valo Jump, Walk the Wall, Skypods,
Freestyle Wall,Tumbling Trampoline, Foam Pit and more.
---
FIRST INDOOR NINJA TAG OBSTACLE COURSE
IN CANADA
"We wanted to renovate and modernize the facility.
Imagine an indoor multi-level assault course
that is a cross between Total Wipeout and Ninja Warrior,
all in one exciting experience"
Gabrielle Wilson, co-owner of Ninja Tag, told Daily Hive.

Read about it here
Watch the customers amazing video
---

Cyber Towers – Gamified Vertical Obstacle Climb Tower
Cyber Towers are two side by side timed vertical obstacle towers.

Cyber Towers are fun, strategic and physical climbing challenges. Safe enclosed towers allow players to race to the top of the individually designed climbs collecting points along the way.

The towers are independent of each other. Players can race together in the separate towers. With TAG Active technology players split times and total completion times of the towers are recorded. With the best daily and all time ever scores displayed on the large scoreboard screen(s).

Aerial Assault – Gamified Modular Obstacle Wall Challenge
Aerial Assault is a gamified modular obstacle wall system. Fun and challenging obstacle course walls. Creative obstacles for players to move across, over, under or around to progress along the wall, gaining difficulty and time points as they progress. Wall systems are modular and can be configured to custom shapes. Select from our constantly expanding range of Aerial Assault wall obstacle sections and design a wall to suit your space and level of challenge. Interactive TAG Active beacons in the wall sections provide targets the players must reach and tag with their wristband. All players attempts, scores and results are stored and displayed along with large leaderboard score screens.
Modular wall section events have been created with elements of fun and challenge whilst always considering player safety. Illuminated TAG targets are located along the walls surface that players must TAG with their wristbands to gain points and log times. TV screens on the wall display the players progress and the highest scores for the wall when the wall is empty. Additional electronic game selection packages are continually being developed to enhance Aerial Assault. These walls can be combined in any number of layouts and shapes to create continuous wall challenges to suit your building. Harder to reach TAG targets are worth more points, but fall from the wall and its 'game over'.
Wall colour and artwork graphics can be fully customised to suit specific branding / theme. Players are provided with electronic wristbands that link them into the system, display their scores and store their game data. We have a unique algorithm to balance points vs time for games on the wall. This provides players with a 'score' for the wall. A large foam pit the full length of the wall provides the landing area from the wall with numerous step exit locations.