Custom Designed Indoor Play
Equipment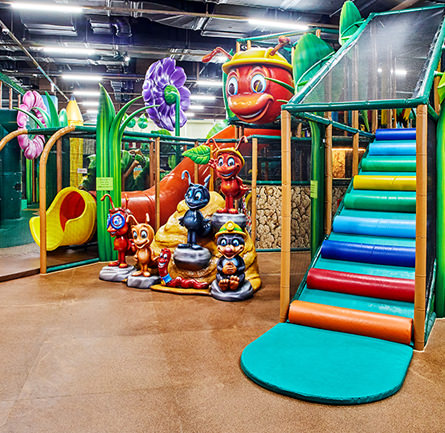 Today's parents are looking for a safe, fun and affordable environment to take their families. Time is extremely valuable in today's fast paced society and it is important to provide a family friendly destination that is fun for all ages.
Add an indoor playground to your family entertainment center (FEC). This feature will mostly be designed as a main attraction. Its purpose is to attract more children and families to your center and increase sales. Let us design your unit with entrances and exits in mind, anticipate traffic flow patterns as well as planned seating and controlled access, meet budget, playground objectives and anticipated numbers of children using the play structure.
Our professional and knowledgeable team will work hand in hand with your team to develop a proposal that meets the needs and budget of your project.
Our theming expertise is vast and our abilities include Tuff Stuff sculpted soft foam play equipment for toddlers, indoor 3D characters and facades.
If you can imagine it, we can create it.
Indoor Playgrounds can be installed at
Family Entertainment Centers | Children's Ministries | Fitness and Recreation Centers | Commercial Venues
Resorts and Hotels | Theme Parks | Museums, Aquariums and Zoos
Select from the Gallery below for
Project Installations ~ Sample Designs ~ Toddler Play
iPlayCO PROJECTS
iPlayCO has installed many play structures worldwide.
IPlayCo worked with us on the design for months. Every detail was thought out and discussed. Their designers worked within budget, and tight size tolerances to develop a unique and magical experience for our customers. The design staff was even able to develop factual science information and displays to be built into our playground. As an informal STEM education facility, we love having the science actually built into the play! Learning through Active Play!
Roger, Owner at KidSpace
Since the start of our collaboration, we knew iPlayCo, is the company we were looking for. The whole process from planning to installation was smooth and done on a professional level. Outstanding customer and support service, which works well long after the installation. We even had support dealing with the city inspectors during our installation, and thanks to iPlayCo, was done in a timely manner. If you are looking for a reliable, professional, quality partner, iPlayCo is the choice!
Dmitriy Kim,Owner at Flippo's Kid's Playground and Cafe
Indoor Sample Designs
We can send you a complete brochure of indoor samples to give you an idea of different themes, sizes and an idea for your budget.
Children's Play Equipment for Toddlers
Fun and Safe for Younger Children
Soft contained play areas are a great way of providing fun and creative play areas for young toddlers; a vital part of a young child's development. Well designed and manufactured soft indoor play areas will facilitate the development of a children's physical, intellectual and social skills in a safe, pleasant environment.
Play areas can include stimulating activities, play panels, interactive events and 'Soft Stuff' like foam animal rockers and more.