Custom Play Solutions
first indoor Ninja Tag
obstacle course
in Canada
"We wanted to renovate and modernize the facility.
Imagine an indoor multi-level assault course
that is a cross between Total Wipeout and Ninja Warrior,
all in one exciting experience"
Gabrielle Wilson, co-owner of Ninja Tag, told Daily Hive.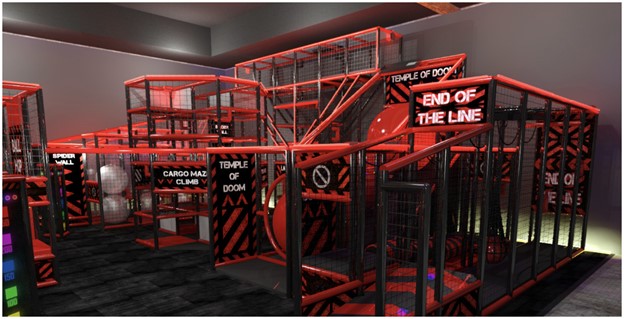 ---
MESSAGE TO OUR BUSINESS PARTNERS
Contact Information:
General Questions - sales@iplayco.com
Sales/Parts Questions - sales@iplayco.com
Carey Robertson - carey@iplayco.com
Rob Lothian - rlothian@iplayco.com
Casey Martin - casey@iplayco.com
Service - service@iplayco.com
Marketing/Trade Shows - kathy@iplayco.com
Accounting - accountspayable@iplayco.com
Upcoming Trade Shows
FOUNDATIONS ENTERTAINMENT UNIVERSITY - Virtual - April 28-29, 2021

IAAPA EUROPE - Booth TBA - September 28-30, 2021

IHRSA - Booth TBA - September 20-22, 2021

IAAPA North America - ORLANDO - Booth 4069 - November 16-19, 2021

DEAL SAUDI ARABIA - TBA
---
iPlayCO, a leading manufacturer of safe, fun play structures enjoyed by children and teens of all ages, is proud to celebrate its 20th anniversary. Founded in 1999 in Langley, British Columbia, Canada, iPlayCO has installed play structures in over 70 countries.
Read More
Biba/iPlaYco Gamified Playground App New" Biba/iPlayCO Gamified playground App and facility interactive experience: This great new Exclusive Gamification product turns your playground and facility into a multitude of unique interactive play experiences by downloading the Biba App on your Mobile Phone or Tablet on the App store. "Free to download" for your guests, the game ...
Read More
Read More
TAG Active - Ninja Obstacle Course
TAG Active - Ninja TAG Obstacle Course An arena based game designed to test strategy, speed, agility, awareness and bravery. Promotes fitness, fun and competition. The arena itself contains a complicated structure of inter-connected activity areas. Hidden throughout the arena and within the activities are a large number of illuminated TAGs.
Read More